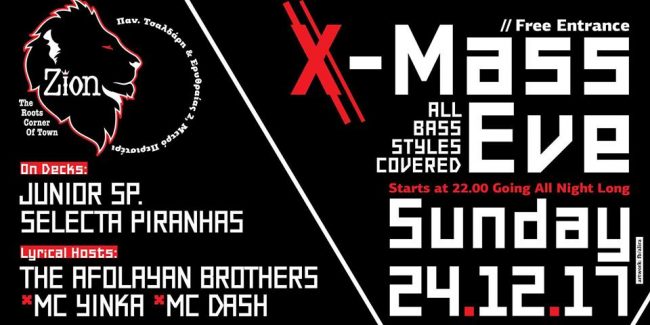 XMas Eve Bass Special at Zion : JuniorSP Piranhas Yinka Dash
@ Zion
2 Bass Masters on Decks + 2 Kick-Ass MC's on da Mics
= All Bass Styles Covered, All Nigh Long !
On Decks :
Junior SP.
Selecta Piranhas
Lyrical Hosts :
The Afolayan Brothers
MC Yinka
MC Dash

For the Ultimate X-Mas Eve Bass Special
Starting after 22.00 // FREE Entrance !
Address :
Ερυθραίας 2, Περιστέρι, Αθήνα