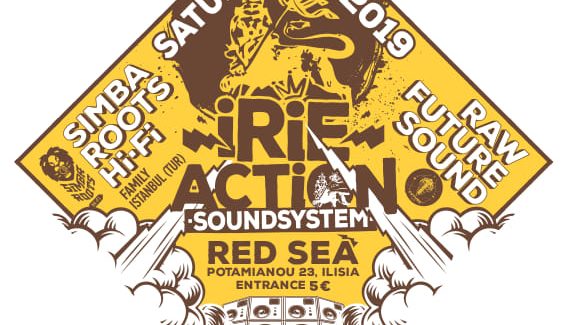 Simba Roots Family (Istanbul) + Raw Future Meets Irie Action
@ Zion
Simba Roots Hi-Fi Family
★Simba + Reggaelation★
-Simba Roots is a reggae soundsystem activist from Istanbul. Reggae music is one of Simba's biggest passion. He's been collecting reggae records since early 2000s and specialized in deep roots reggae vibes. He built his reggae soundsystem project that called «Simba roots Hi-Fi» in 2013 to spread the roots and culture music with full effect in a proper traditional way.Simba Roots,Reggaelation and Dubfactor have been running «Dub Club Istanbul» soundsystem dances with outernational guests and trying to push the local reggae scene larger to the higher conscious level since 2014 as the only active roots sound system of the country. Simba Roots has played as a guest selector on some European soundsystems in Italy, France and Bulgaria in recent years , also included in the line up of Dub Camp Festival 2018.
★Raw Future Sound | Panagiwtis Vou ★
Irie Action Sound System based in Athens. It's the first Reggae Sound System in that land. Started in 2005 as a URM with founding member Oldjohn through his love of Reggae music and drawing inspiration from the Jamaican culture of the Sound Systems.
Irie Action Sound System is an independent handheld audio system designed to play in every city of that land by transmitting the message and energy of Reggae Music. For Irie Action, Reggae Music is a mission and our mission is to provoke positive feelings in action.
Jah Works
Address :
Ερυθραίας 2, Περιστέρι, Αθήνα