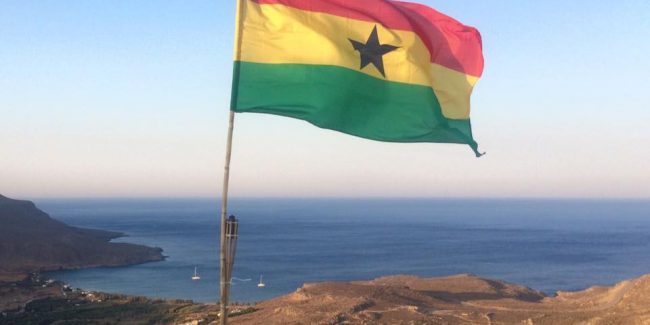 Professor Skank & Daddy Vertigo Ft. Jahnnis Man
@ Castle Koxi
«Professor Skank» Daddy Vertigo feat. Jahnnis Man @ Castle Koxi
29 Ιουνίου 2019 | Kάτω Ζάκρο Σητείας
Damage : 2euros / Person
——————————————————————
Ο Dub Master Professor Skank επιστρέφει μετά απο 2 χρόνια σχεδον στη Σητεία με μοναδικο σκοπο μαφευτεί και να μαγέψει το Castle Koxi για πρώτη φορά με νεους Dub ηχους. Ο Daddy Vertigo για να μας χορέψει με το digital raggamuffin style του και ο Jahnnis Man για να δουμε τι εννοουσαν οι Τζαμαικανοι οταν ελεγαν
Soundsystem Style στη δεκαετια του 50′ .
ΕΛΕΥΘΕΡΗ ΜΕΤΑΦΟΡΑ ΑΠΟ ΚΑΙ ΠΡΟΣ
ΣΗΤΕΙΑ ΜΕ ΠΟΥΛΜΑΝ : 6981688459
– – – – – – – – – – – – – – – – – – – – – – – – – – – – – – –
• «Professor Skank» •
facebook.com/Professor-Skank-264984316851143
soundcloud.com/professor-skank
Professor Skank is by far the most well known Greek Dub producer with a number of great releases and collaborations. Born and raised in Greece in 30.03.1977, he experimented with the genre at a really young age of 14 on a 4-track recorder in early 90's. A period of blending and maturing followed that lead to his days . Meeting Mad Professor was a turning point for him. His talent was discovered immediately and he succeeded not only to shine through but also being initiated into the dub 's secrets from such a living legend.
In the following years their collaboration allowed Professor Skank to use the legendary Ariwa studios remixing and working with great artists and bands of reggae and dub like Max Romeo, Zion Train,Brinsley ford Aswad, Love Grocer, EARL 16,vibronics,Afrikan Simba and many other. In 2006, his first solo album "Industrial Democracy" was released through Universal music.
Based in his studio, he kept on producing music, releasing vinyls and rmx ,on international labels and presenting it all around the world and building an international career which lead to him being the first Greek musician to ever appear in Glastonbury Festival, Great Britain 's most famous music festival
In early 2014 Professor Skank starts a new collaboration, this time with klikrecords and releases his second solo album "Digital Revolution". A project that starts with the best portents since Mad Professor is not just a mentor here but opens the album with his voice talking about Professor Skank 's ecumenical music.
Professor Skank 's love for vocal samples is something easily noticed in the "Digital Revolution" album. A way to express himself through the voice of others for all those things that trouble him. His own unique method of saying out loud his ideas about all these social and political matters that affect our everyday life and send out his verdicts.
——————————————
• Daddy Vertigo •
–facebook.com/daddyvertigo
–soundcloud.com/daddyvertigo
–daddyvertigo.bandcamp.com
–mixcloud.com/daddyvertigo
–https://goo.gl/bnVXxi
————————————-
– Sista Ruby – Think And Wanda (Daddy Vertigo Edit)
(https://goo.gl/3C6XbH)
– Dubmatix – Ease Up The Pressure (Daddy Vertigo Remix)
(https://goo.gl/KQBw5e)
– iLLBiLLY HiTEC Ft.Kinetical-Rude Boy (Daddy Vertigo Remix)
(https://goo.gl/Dc5om3)
———————————–
#bio
The journey officially began in 2007 in Sitia Crete. A year ago Andronikos (Vertigo) started his first radio show which lasts until today.Over the years he entered the mentality of Dj set..Followed many Dj Sets in Greece with highlights participations in charitable events.
All of these years blended various genres of music until and the finalmixture is based in Jamaican sounds..Υardie beats from Reggae Dub,Ragga,Hip Hop with a special preference in Digital sounds but also many influences from all around the Caribbean musical culture compose his sound..Since 2017 and spending his second decade has been experimenting on remixes with three releases for free download.
In 2011 he created his own web radio (www.radiospirit.gr) and made many parties and concerts with big names of the Greek Scene.
In 2014 he entered the radio team of Mousiko Kanali 101.5 and mixing music for Guest Dj Zone until early 2016 and from 2017 until today has his own show named ''The Cranky Monkey'' on the Athenian Milk and Chocolate radio.
Founder of Gruppo del Este familia created in 2014.It's a family of passionate people with music.A Djs collective that their mission is to »stick» their germ everywhere..
in 2015 he made the dj duo of the ragga cakes named »Ragga Muffins» with Positive Vibes.
In 2015,2016,2017 and 2018,was hosted in Reggae Vibes Music Festival and shared the stage with names like : Krak In Dub,Μad Professor,Dreadzone,Vibronics,SKG'S Dub Alliance,ZionTrain and MC's like Skarra Mucci, Earl 16,Madu Messenger, Mc Brother Culture,Mc Yinka,J Fyah and many more.
Has shared the booth/stage with names like:Anna Mystic,Professor Skank, Cayetano, Blend Mishkin, Big Shine, Dj Tzinas, Snk, ThatStyle, Funkanizer, Digital Monk, Mr BiGK,Bass Delight,Jahnnis Man and many more.
————————————
• Jahnnis Man •
Jahnnis Man aka »Gouro» is an independent artist based inna Crete island .At a young age, rastafarian culture was a big part of his life , at the age of 19 Jahnnis Man start singing jamaican patois with a raggamuffin , rub a dub and dancehall style!!At the same time Jahnnis Man was involved in deejaying, hosting event with Reggae and generally Caribbean music.The past few years, Jahnnis man has held performances throughout the whole island.During his performances he has found himself on stage with very well known reggae artist, such as Professor Skank, Blend Miskhin, DjTzinas, Daddy Vertigo, MrbigK and with somes local artist such as Bredda Mainas, Selecta Farmabwoi , Positive Vibes and Rasta Monkeys.
What's more, He has attended many sound system events where he has had the opportunity to perform,on a reggae-hiphop stage, next to Cptn Kirk, Vertical Speech and dj Mosek.
Address :
Κάτω Ζάκρος, Λασίθι