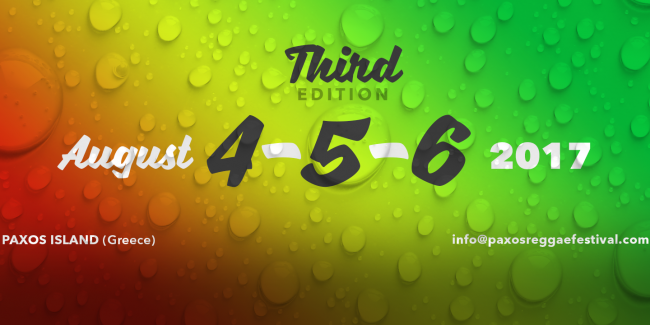 Paxos Reggae Festival 2017
@ Παξοί
PAXOS REGGAE FESTIVAL 2017 – 3rd Edition!
In the unique scenario offered by the beautiful greek island of Paxos, 3 Days of Music in the name of One Love!
From morning till the break of down, come dance with us and follow our full program of activities for all ages including yoga, massage and more!
Artist Lineup:
INNA CANTINA SOUND (ITA)
ALIDU AND THE BIZUNG FAMILY (GH)
NADIRAH X (JAM)
FADHILEE ITULYA (KEN)
VIRTUS (ITA)
SPERLA ROOTZIE AND THE GREEN HELMETZ (ITA)
MATTUNE (ITA)
WUFER (ITA)
Resident DJ: Mr.JOINT Selecta
Resident Sound System : Shabadà Sound System
NAH MISS IT!
–
PRF 2017 is endorsed by Greek National Tourism Organization
–
For more info: email [email protected], or visit www.paxosreggafestival.com