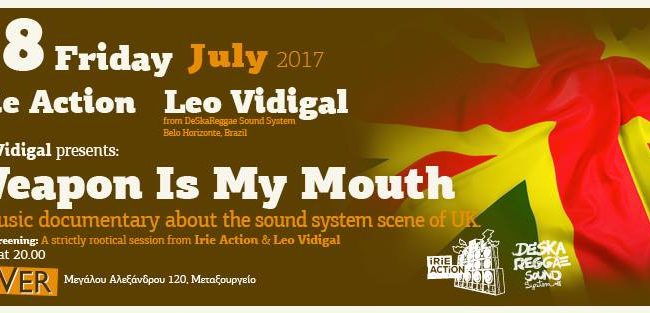 Irie Action Meets Leo Vidigal | Weapon Is My Mouth Screening
@ Rever
IRIE Action Sound System Meets Leo Vidigal From DeSkaReggae Sound System (Brazil)
21:00 – Screening
Leo Vidigal Presents »Weapon Is My Mouth»
[Conversation With Leo After The Projection]
"Weapon Is My Mouth" is conceived and made specifically a "danceable film." It has to be experienced, appreciated and danced to within the environment of a sound-system session.
Projected between the speaker stacks it is a fusion of Expanded Cinema and dancehall experience – making the space one for the moment of thought as well as bodies.
The 52 min film is the product of an one-year research programme made at Goldsmiths by Brazilian scholar and soundman Leo Vidigal, in collaboration with filmmaker Delmar Mavignier.
23:00 A Striclty Rootical Session From IRIE Action Sound System And Leo Vidigal
Address :
Μεγάλου Αλεξάνδρου 120, Μεταξουργείο