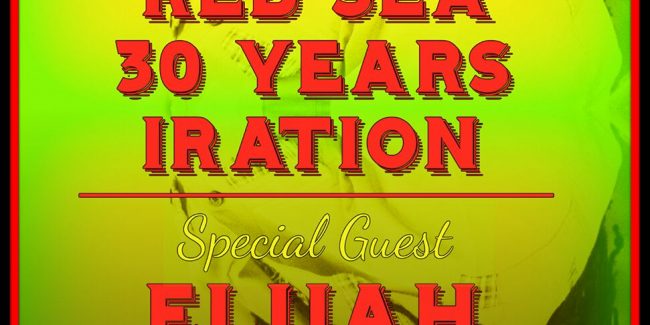 Elijah Prophet – Red Sea 30 Years Iration
@ Red Sea Reggae House
| Friday, 6th October 2017 |
| Red Sea 30 Years Iration |
| Special Guest: Elijah Prophet (JA) live showcase |
| Pon di controls: Selecta Piranhas & Natural Reaction Sound System feat. Junior X |
| Hosted by Astronatty |
| Live percussion band: African Heritage |
| Sound Engineer : Konstantinos Rythmos |
| Vegan Jamaican Buffet by Roots Food & Culture |
—————————
Starts at 23.00
Entrance Fee: 3€
—————————
Elijah Prophet Bio:
Elijah Prophet was born and raised in Westmoreland, Jamaica, West Indies. At a young age, Elijah began singing under the mentoring of Garnet Silk and Uton Green in the cool hills of Manchester. At the time, Garnet Silk was unknown to the world of music and was dj'ing under the name "Bimbo". Singer Uton Green took on the dual role of godfather and teacher.
In 1991, Garnett Silk would take Elijah to Courtney Cole's Roof Talent Show regularly and Elijah would sing with the band. These live appearances helped Elijah earn a reputation as a singer with a powerful voice and a strong stage performance.
Elijah first visited a recording studio in 1996 with producer Jimmy Hinds. This session produced the singles "Mr. Badman" and "Mankind". The same year, Elijah Prophet received the "Best New Artist" award in the Stone Love star search contest. This award caught the attention of other Jamaican producers, leading to a series of singles like: "I Can See Dem", "Burn Down The Walls Of Babylon" and "War A Gwaan". The conscious and often unapologetic nature of Elijah's lyrics drew immediate attention – especially in the recordings like "Shatter", where a parallel is drawn between the street gunman and police . When asked about this, Elijah responded, "Look, it dosen't matter who you are. Whether you got a license to kill or you don't have a license to kill, every man with gun is a gunman."
Radio stations in both Jamaica, and Canada began to air the songs written and sung by Elijah Prophet. Both "I Can See Dem" and "Burn Down The Walls Of Babylon" charted. In Toronto each of the tunes topped the charts at number one and Elijah received a Tameka Award nomination for "Best New Reggae Singer". Meanwhile, Germany's Pow Pow sound system voiced dubplates by Elijah and soon decided that they too would record his music for release on their Pow Pow Record label. Tracks like "Put People First" caught the attention of German reggae lovers in 2002. Dasvibes Production stepped in and took on the management role for Elijah Prophet in December of 2005, culminating in the release of his album «King of Kings» containing tracks like «Children Of The World», «Piece Of Ganja», «Mother Nature» and «Mama Star,» as well as the recording of several titles for European labels, thus building a loyal following for Elijah – which has persisted to this day all over Europe and to as far as China and Africa.
As of 2016, Elijah has been back in the spotlight under the joint management of Kevin «Spiral X» Bailey and Teddy Laidley Productions, producing new songs, new videos, and a new album appropriately called «New Chapter of My Life,» for Arise Music, showcasing the tracks «In Love with Jah» «Mama Bawling» and «Musical Healing.» He has also been busy doing various shows and tours throughout Europe, and is currently on his latest tour of Germany.
Address :
Ποταμιάνου 23, Ιλίσια, Αθήνα