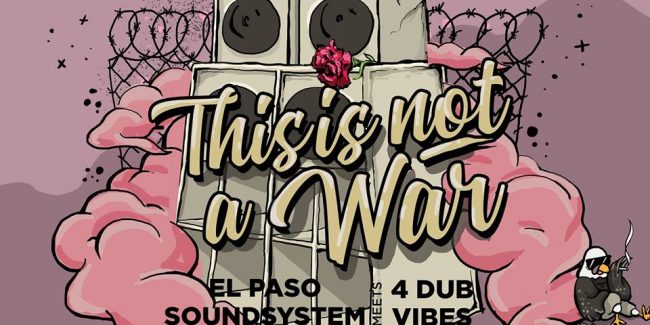 El Paso Soundsystem meets 4Dubvibes
@ Red Sea Reggae House
4Dubvibes και EL PASO SOUND SYSTEM συναντιούνται ξανά μερικούς μήνες μετά από το ΤΕΙ Λάρισας και τη Κατάληψη Ματσάγγου στο Βόλο αυτή τη φορά στο Red Sea Reggae House με αφορμή τη κυκλοφορία του πρώτου EP βινυλίου αυτόνομης παραγωγής από τους Λαρισαίους 4Dubvibes με τίτλο "This is not a war".
Powered by El Paso Soundsystem
Support contribute 4 $
special thanks to Smaragda Pappa for this great poster!
4DubVibes is a collective of selectors/producers based in Larissa, central Greece. Since they started at 2011, they have taken part in many festivals, organising local events and creating several mixtapes for radio shows. Their debut 10″ vinyl E.P. "This is not a war" ,released at 18-5-2018 in limited edition, featuring the french mc Sir Jan and the greek dub producer Proffesor Skank as well. Roots reggae/dub and heavywheight steppa sound.Uplifting vinyl sessions and positive vibrations. They are also building their own soundsystem.
Wherever you look nowadays, it is clear that the ruling elite, increases its strength more and more and more. All over the world people witnessing the cruelty of the system. Economic crisis, immigration, racism, media, corruption, police brutality. It's clear to see the system fail. Dept and loans are the new slavery. Poverty is the new slavery. People die, people are hungry. This is not a war. This is a murder. We have to fight back. Resistance and solidarity are the magic words. Music is our way.
BABYLON SHALL FALL!
https://4dubvibes.bandcamp.com/album/this-is-not-a-war
* Rebelbase review :
'This Is Not A War' opens with 'Where Goes The Nation', a disco mix (vocal cut + dub) for which the collective invited French-Senegalese vocalist Sir Jean, who recently also appeared on Maïs & Sin's 'Virtual Lines'. But the absolute highlight on the EP is title track 'This Is Not A War', in which fragments from a 2009 speech by journalist, author, activist and clergyman Chris Hedges about the situation in Gaza can be heard: «The Israeli decision to rain death and destruction on Gaza, to use the lethal weapons of the modern battlefield on a largely defenceless civilian population, is the final phase of the decades-long campaign to ethnically cleanse Palestinians.»; a tune that couldn't have been released at a better time! Excellent Greek dub with a conscience!
EL PASO SOUND SYSTEM
El Paso Sound System is born in the winter between 2016 and 2017, from the idea and the collaboration among DonnieDub and Rootsman.
After a couple of years selecting Reggae music and providing Jamaican sound system culture in historical places such as RedSea Reggae Club at Athens, DonnieDub meets Rootsman from Bergamo, Italy. Rootsman, back in Italy, was part of crews like BergamoReggae and the I-Trees sound. The
main idea of the El Paso Sound System is to provide sound system culture in the streets with the sound of Reggae galaxy,like the old years in the 70's and 80's in Jamaica and England with custom build D.I.Y speakers with heavy bass, scoops, midbass and such!
El Paso borns in the working class neighbourhood of Kallithea, Athens.
https://elpasosound.wordpress.com
Address :
Ποταμιάνου 23, Ιλίσια, Αθήνα