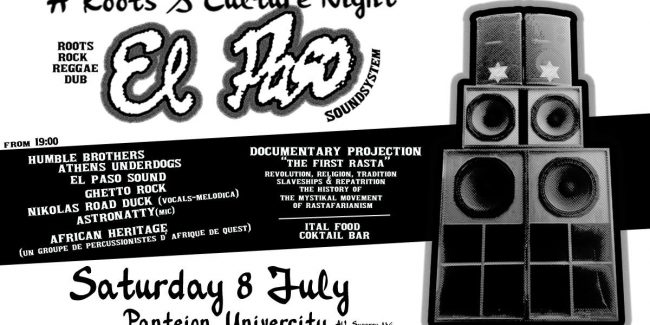 El Paso Sound / A Roots & Culture Night
@ Panteion University
-Saturday 8 July 2017-
A Roots & Culture summer Night
about Reggae Soundsystem and Rasta Culture >>>
selectors on rotation
Humble Brothers // Athens Underdogs
Ghetto Rock // El Paso sound
on vocals n' melodica Nikolas Road Duck
Astronatty on the mic(IKi KostiKi) and special guests
hosted at the yard of Panteion Univercity
powered by El Paso Soundsystem.

Documentary projection «The First Rasta»
talking about the mystikal movement of Rastafarianism
<<Thirty years after Bob Marley's death, it is time to pay tribute to Leonard Percival Howell, The First Rasta At the beginning of the last century, the young Leonard Percival Howell (1893- 1981) left Jamaica, became a sailor and traveled the world. On his way, he chanced upon all the ideas that stirred his time. From Bolshevism to New Thought, from Gandhi to Anarchism, from Garveyism to psychoanalysis, he sought to find his promised land. With this cocktail of ideas Leonard «Going» Howell returned to Jamaica and founded Pinnacle, the first Rasta community.>>
Live percussion from African Heritage
(un groupe de percussionistes d' Afrique de l' Quest)
a group of different countries from West Africa
(Sierra Leonne,Senegambia,Liberia and Guinea)
living always for the Unity of the people..!
Ital Foods from Roots Foods and Culture
self-organized Cocktail Bar and
irie vibes to nice up the dance!
From 19:00 o 'clock until..early morning.