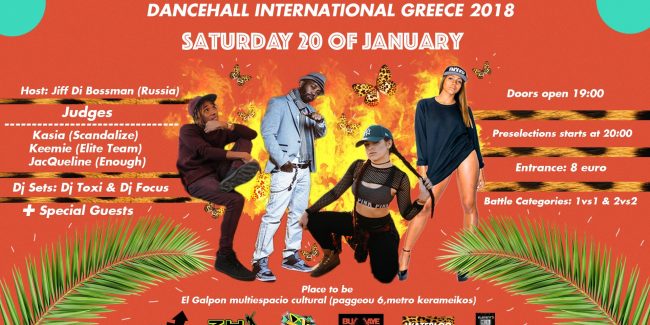 Dancehall International Greece Preselection
@ El Galpon
*DANCEHALL INTERNATIONAL GREECE PRESELECTION*
Saturday 20 of January is gonna take place in Greece, Athens the official event »Dancehall International» where the finals are in Spain,Barcelona. and in Greece will be the preselections .
Doors Open at 19:00 (for participants) and the preselection and the whole event is gonna start at 20:00 .
Battle Categories: 1vs1 & 2vs2 (the winners of both categories go straight to the finals in Barcelona)
Prize for the winners of 1vs1 & 2vs2: The tickets to Barcelona
Judges:
Keemi-Elite Johnson (Jamaica)
Kasia Jukowska (Poland)
JacQueline Enough (Sweden)
Host: Jiffson Celissaint (Russia)
DJs Set: Toxi Monica Ogunnorin – Dj Focus Official
Entrance: 8euros (with wine), for participants and the audience
Place to be El Galpon -Multiespacio Cultural , metro »Kerameikos», paggaiou 6.

Address :
Παγγαίου 6, Βοτανικός, Αθήνα