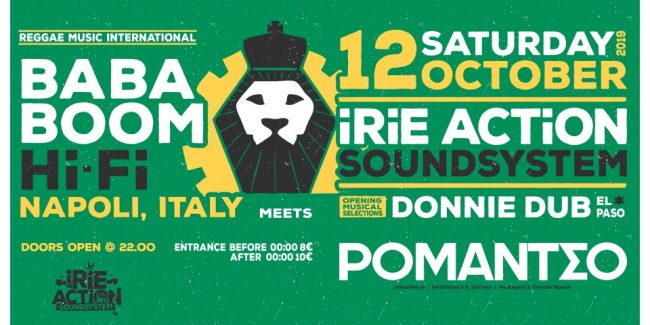 Bababoom Hi-Fi Meets Irie Action Sound System
@ Romantso
★REGGAE MUSIC INTERNATIONAL★
Το IRIE Action Sound System ξεκινάει τις συναντήσεις του για την νέα σεζόν στο Romantso με καλεσμένους τους Bababoom Hi Fi Sound System.
———————————————————————————–
//Original Roots Defender Sound System and Record Label//
Established in 2004, Bababoom Hi Fi has been running its own custom-built, heavyweight sound system since 2007, playing the best in Roots Reggae and Dub music from the foundation until the present days.
We played up and down Italy and also in the UK, France, Romania, Jamaica and Tunisia, sometimes alongside top-a‐top acts such as Jah Shaka, David Rodigan, Mad Professor, just to name a few.
We also actively promoted 100% undiluted sound system culture in our area, hosting regular events such as Roots Attitude (2008-2009) Bass Guidance Festival (2008-2010), Dub on the Lake (2011-2013), in cooperation with other local crews.
In 2011 we started to produce music on our own label, releasing tunes from the Italian band The Roots Defenders and artists such as Johnny Clarke, Earl 16, Dennis Alcapone, Afrikan Simba and more.
In 2017 Bababoom Hi Fi is well-equipped with a deep box of dubs and its own exclusive music, featuring the sound of the Dub Defender and vocals from Willi Williams, Prince Malachi, Ramon Judah, UK Principal and more.
The selection includes spiritual reggae music from the foundation to raw unreleased stepper dubs, always loaded with a positive message and a deep roots feeling.
———————————————————————————–
Irie Action Sound System based in Athens. It's the first Reggae Sound System in that country. Started in 2005 as a URM with founding member Oldjohn through his love of Reggae music and drawing inspiration from the Jamaican culture of the Sound Systems.
Irie Action Sound System is an independent handheld audio system designed to play in every city of that land by transmitting the message and energy of Reggae Music. For Irie Action, Reggae Music is a mission and our mission is to provoke positive feelings in action.
———————————————————————————–
Donnie Dub: https://elpasosound.wordpress.com/
Date: Saturday 12 October 2019
Doors Open: 23.00
Entrance Before 00:00 | 8 Euro
After 00:00 | 10 Euro